Did you know that your Internet Explorer is out of date?
To get the best possible experience using our website we recommend that you upgrade to a newer version or download another web browser.
A list of the most popular web browsers can be found below. Just click on the icons to get to the download page.
Your browser will need to close to complete the installation and you will need to manually reload the site when finished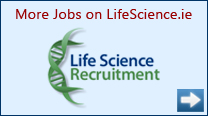 Search Results for Microbiology Lab Supervisor
Job Title.
Location
Salary
Actions

Chief Medical Scientist (Microbiology)

Our client is a global testing laboratory, based in South Dublin. They are currently seeking a Chief Medical Scientist (Microbiology) who is CORU registered with at least 2 years' experience as a Senior Medical Scientist specifically in the area of Microbiology with approx. 7+ years' experience in Micro labs. Super opportunity to join an established lab in a senior position with 6 direct reports. This is a very high-level role in the Microbiology department and the organisation offers a very attractive and competitive compensation and benefits packages to all t...

Location: Dublin, Chief Medical Scientist (Microbiology)
Dublin
Not Disclosed

Subscribe RSS feed for this search
Microbiology Lab Supervisor Career Profile
Microbiology Lab Supervisor
The Microbiology Lab Supervisor ensures compliance across the quality control microbiology function.
Responsibilities
Oversee microbiology laboratory design and qualification to include equipment selection, qualification and maintenance.
Development and maintenance of the facility environmental monitoring program
Microbial method validation, material and product assessments and product and raw material testing programs.
Provide oversight to the laboratory design, equipment requirements and qualification.
Develop and maintain the Microbiology Laboratory Master Plan and develop and oversee the plant hygiene and environmental monitoring programs.
Oversee the validation of new equipment and test methods and on-going re-qualification of existing equipment.
Review validation and qualification protocols and reports as necessary.
Provide direction and leadership for the Microbiology Laboratory developing staff to improve individual and departmental performance.
Provide training to members of the department and other departments as necessary.
Support development of new methods to improve laboratory compliance and efficiency.
Oversee laboratory investigations to assure timely notification to management of results and resolution of issues.
Provide input for risk assessments.
Review and approve product and raw material specifications and test methods.
Provide data trending in support of annual product and quality system reviews.
Develop departmental and site metrics to detect potential signals and drive improvements. Participate on teams for new product introductions and post-approval/launch changes.
Interact with Regulatory Health Authorities during inspections and providing input to responses to Health Authorities.